Over the last twenty years, there has been a shift in the way the UK's property market works. Between the 1960s and 1990s, a large majority of twenty somethings saved up their 5% deposit, went without life's luxuries of going out and holidays etc., for a couple of years and then bought their first home with their hard earned savings.
By 2000, the statistics painted a clear picture: 50.2% of Rotherham 25 to 29 years owned their own home (compared to 46% nationally) and 70.2% of Rotherham 30 to 34 year olds had entered into home ownership (compared to 64.2% nationally). The remaining youngsters mostly rented from the Council and in some rare cases, privately rented.
How things have changed! Now it's 2018, and those levels of homeownership have slipped dramatically. Only 26.8% of Rotherham 25 to 29 year olds and 47.2% of Rotherham 30 to 34 year olds own their own home (interestingly this now mirrors the national picture of 24.5% for the younger age cohort but is significantly less than 64.2% for the older 30 to 34 year cohort).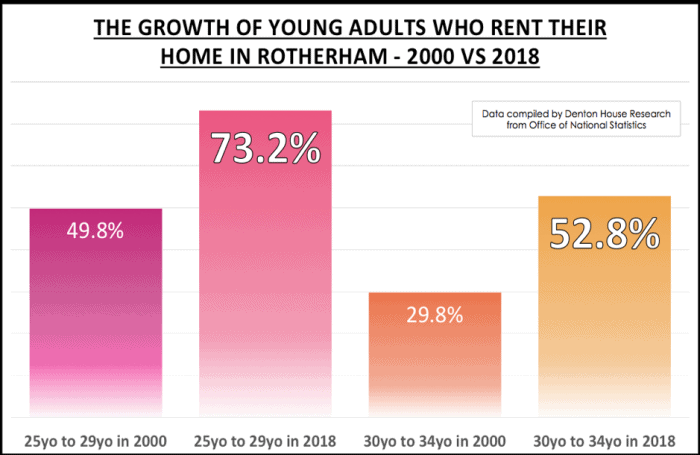 There was concern in Government since the late 2000s that this shift from homeownership to private renting wasn't good for the well-being of our country. Things needed to change in order to make it a more level playing field for first time buyers. House prices needed to be more realistic and there needed to be a carrot and stick for both landlords and first time buyers.
In the 1980s and 1990s, interest rates were the weapon of choice of Government to cool or heat up the UK housing market – and it did work – up to a point. It's just interest rates also affected so many other sectors of the UK economy (and not always a in good way). The policy of interest rates to control the economy is called 'Monetary Policy'. Monetary policy is primarily concerned with the management of interest rates (and the supply of money) and is carried out by the Bank of England (under direction from the Government).
However, in this new, Brexit environment, the use of higher interest rates wouldn't directly affect landlords (as around two thirds of buy-to-let properties are bought without a mortgage). Therefore, an increase in interest rates would have hardly any effect on landlords and would hit the first time buyers – the people the Government would be trying to help!
In addition, given muted growth of real income (i.e. real income being the growth salaries after inflation) in the past few years, an uplift in interest rates (from their ultra-low 0.5% current levels) would have a massive effect on household disposable income. Yet, over 90% of new mortgages in 2018 being taken are fixed rate and with such low rates, it has made buying a property comparatively attractive.
Instead, over the last 8 years, the Government has encouraged first time buyers and clipped the wings of landlords with another type of economic policy – Fiscal Policy (Fiscal Policy is the collective term for the taxing (and spending) actions of the Government).  First time buyers have had the Help to Buy Scheme, Stamp Duty Exemption and contributions to their deposit by HMRC.
On the other side the coin, landlords have had the way they are able to offset the tax relief of their mortgage payments against income change (for the worse), an increase in Stamp Duty (for the worse) and they will be hit with additional costs as the Government will be phasing out fees to tenants in the next 12 to 18 months.
So, what does this all mean for the 3,090 Rotherham landlords?
The days of making money in Rotherham buy to let with your eyes closed are long gone. There are going to be testing times for Rotherham landlords, yet there is still a defined opportunity for those Rotherham landlords who are willing to do their homework and take guidance from specialists and experts. That's where Bricknells Rentals can really help you thrive.
It's important to look at your Rotherham portfolio and ascertaining whether it is designed to hit what you want from the investment – both in terms of income now and the future, capital growth and when you plan to dispose of your assets. We can provide professional analysis if that would be useful to you.
We have provided expert advice to many Rotherham landlords (including those who use Bricknells to manage their property or find them tenants, as well as those who used our competitors). On many occasions recently, we have advised them to SELL. Yes, you read the correctly! We have advised them to sell some of their portfolio to either reduce mortgage debt or to buy other types of property that match what they want to gain in both the short and the long term from their investments.
This may sound strange but we believe that our role isn't just to collect rent. It's also to give strategic advice and opinion on each landlord's portfolio to help them meet their current and future investment goals. If this advice sounds like it may be helpful to you as a landlord, please get in touch. We'd be happy to talk to you!
Opportunities will appear in the Rotherham property market. If you put the time in, there will be deals and great bargains to take advantage of. Many landlords in Rotherham sent us Rightmove links each week asking our opinion on the suitability of the investment. Some are exceptional, whilst others are duds. We often refer to people to the Rotherham Property Blog where they feature deals of the week that may be good investments for buy-to-let landlords.
The bottom line is that all estimates predict that private renting will continue to outgrow first time buyers in the next 5 to 10 years. As we aren't building enough homes in the UK, there's only one direction that rents can travel in… upwards!
If you need any assistance about the buy-to-let market or property management, we are ready to help. You can read more about our fully managed and let only services on our website or get in direct contact with us here.